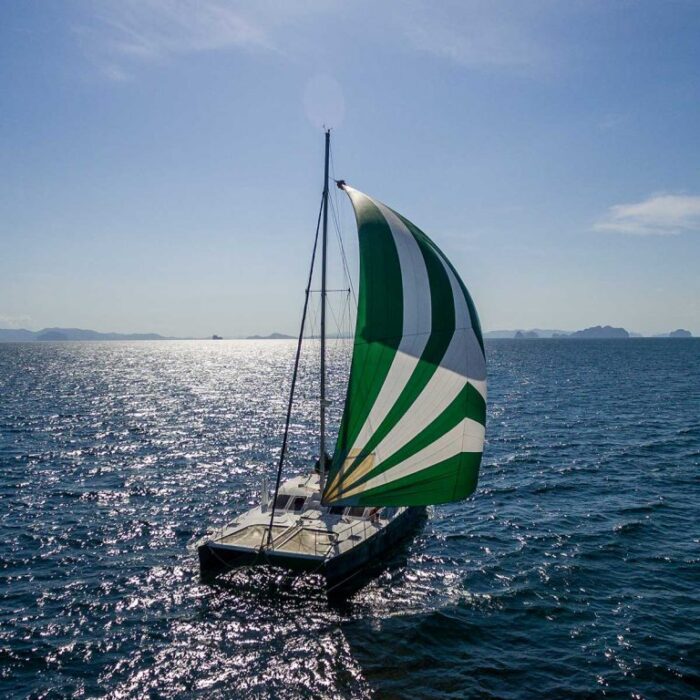 This 51ft custom built Aluminium catamaran is the perfect base to explore the wonderful islands around Phuket and the Andaman Sea.
The main attraction of this yacht is her sheer abundance of space, both above and below deck. Her 4 double cabins (2 with their own ensuite bathrooms, and 2 with a shared bathroom) are all extremely comfortable and spacious. All come with electric fans, reading lights, roof & side hatches allowing for good ventilation.
Space
The main attraction of this yacht is her sheer abundance of space, both above and below deck.
Cruising
Mahayana also offers all the toys you will need to explore the waters, caves and hongs once onsite, from her selection of snorkeling equipment, kayaks, SUP and sub-wings.
She also comes with a full complement of crew, from your very own personal chef, local tour guide and owner/captain. This English speaking crew and English owner pride themselves on providing the full package. Keeping your well-fed throughout the day with some fantastic Thai cuisine and their knowledge of the best spots to take you to, you will not be disappointed!
ONBOARD CHEF
Ah, and then there's food aboard our yacht! Our accomplished Thai cook will prepare Asian and Western meals for that fine finishing touch to make your sailing adventure an unforgettable joy.
Length: 51′ (15,5 m) modern Cruising-Catamaran.
Max. # Guests: Overnight 8, Day Trip up to 20.
Cabins: 2 x King Size with en-suite bathrooms, 2 x Double with sink & shared bathroom, 2 x Crew pods, all with overhead lights / electric fans / side & roof hatches.
Shower / Toilets: 2 x en-suite bathroom and 1 x shared bathroom.
Standard Equipment: 3.6m Aluminium RIB (dingy) with 15 HP outboard engine. 1 Kayak, Snorkelling equipment / Fishing gear.
Optional Equipment: A second Kayak, 1 x SUP (stand up paddle boards), 2 x Underwater Sub-Wings.
Comfort: Large Trampolines with Beanbags and large Awnings.
Entertainment: Large Music Collection and Bluetooth Speakers compatible with every Bluetooth Device.
| Pax # | Price |
| --- | --- |
| 1-4 | €950 |
| 5-6 | €1050 |
| 7-8 | €1160 |
High Season
1st Nov – 14th April
| Pax # | Price |
| --- | --- |
| 1-4 | €1090 |
| 5-6 | €1190 |
| 7-8 | €1320 |
| Pax # | Price |
| --- | --- |
| 1-4 | €1240 |
| 5-6 | €1340 |
| 7-8 | €1470 |