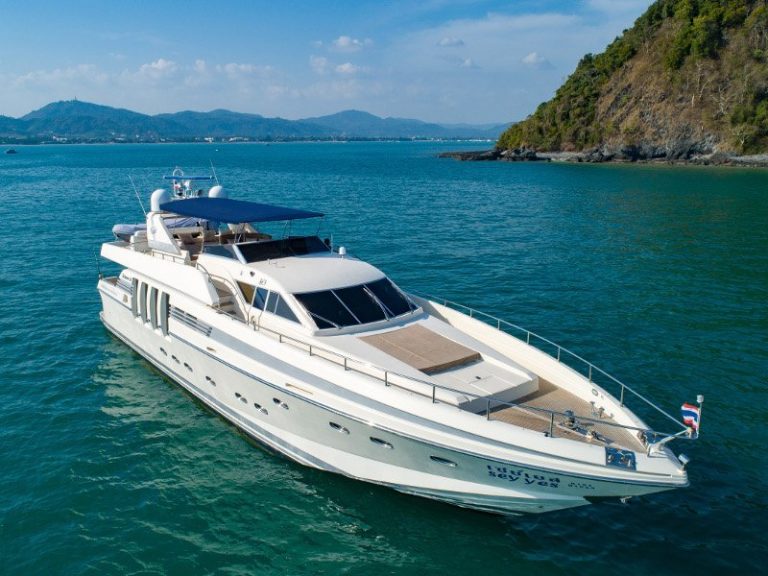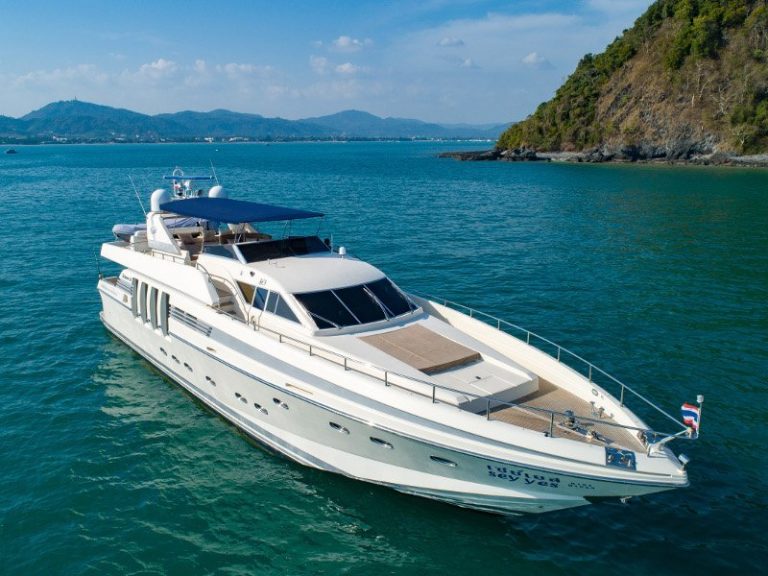 " $€¥ Ұ€$ " – it is first-class yacht manufactured by Posillipo and Rizzardi Yachts shipyards, which produces yachts of luxury class and represents the latest technologies in shipbuilding! The motor yacht $€¥ Ұ€$, undoubtedly, can be called a powerful vessel, which is made in 3 decks with a high freeboard. When waves in sea, the yacht are behaves more than confidently and steadily. A large open deck with a sofa zone and various facilities for rest and sunbathing will pleasantly surprise you. The stylish design of the yacht and the interior will pleasantly surprise you, as well as ergonomics and comfort. On board you will have – Powerful 4.5 meter tender with 60 horse power engine, Water toys (2 inflatable water tubes, 2 wakeboards, water ski and mono ski), masks and snorkel tubes, beach mats, towels, Welcome drink, fruit plates, snacks, soft drinks, water, ice, fishing rods. The elite belonging to this yacht encourages you to enjoy every second spent on the ship, whether it's a family walk at sunset or a one-day charter on the nearby islands of Phuket. We are waiting for you on board!
Total length: 89 FT. 

Width: 6.3 m. 

Draft: 2.3 m. 

Max. Speed 35 knots 

Capacity: 30 people + 4 people crew. 

Cabins: 4 guest cabins + 2 crew cabin. 

Sleeping places: 8
 For a respectable holiday on the yacht "$€¥ Ұ€$ " for you:
Large salon, equipped with built-in audio and video equipment; 

Interior decoration – classic wood, with sofas of light colors; 

Upper deck with sofas for rest and sunbathing, mini-fridge; 

Complete galley equipment, stove – electric, stove with oven, microwave, coffee machine, icebox, refrigerator, deepfreeze, icemaker, dishwasher, washing machine, sink, water pressure, hot & cold water; 

Hot water supply and climate control in all areas of the yacht; 

Radio navigation equipment. 

A bathroom in each cabin; 

Shower in each cabin; 

Climate control in each cabin; 

Dishes; 

Music BOSS AUDIO (MP3, CD, DVD, BLUETOOTH, AUX); 

65' TV with Apple TV; 

Blankets; 

Linens.
Effective Period 1 December 2018 – 1 May 2019
Peak Season + ฿20,000 25 Dec – 10 Jan 05 Feb – 20 Feb
Boat and crew, service staff, passenger insurance, welcome drink, fresh fruits snacks, soft drinks, water, ice, snorkeling equipment, fishing gear.
Tender Boat with water ski, wake board and water donuts.
Prices not include VAT 
Trips with more than 1 overnight are discussing case by case 
Trips with VIP customers are discussing case by case